Fratelli Carli's Mediterranea brand chooses Lameplast's green single-dose for its new "Olive" line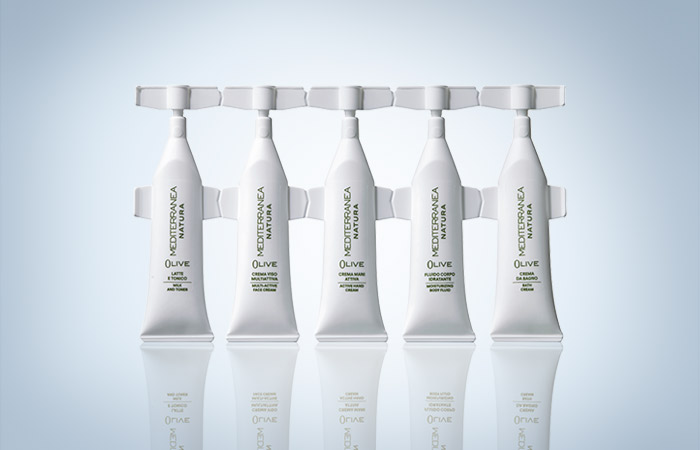 The future of packaging is looking increasingly greener and more practical. That's why Fratelli Carli's Mediterranea brand has chosen the Lameplast's injection-molded single-dose container in Green Polyethylene (Bio PE) for its new "Olive" cosmetic line. For the brand, the company has produced a strip of five x 10 ml white single-dose re-closable containers, printed with bioplastics of vegetable origin and personalized with pad printing. This is a travel kit with five products: tonic milk, multi-active face cream, active hand cream, moisturizing body fluid and bath cream. The new Mediterranea "Olive" line combines Fratelli Carli experience with the excellent cosmetic properties of the Olive tree and its extracts to present immediately absorbable products, pleasantly sensorial with effective anti-age action. Nature gives beauty a hand but demands respect. That's why the Mediterranea brand has decided to present its products, formulated with strictly natural ingredients, in an ecological pack able to reflect sustainability and respect for nature. The strip, the upshot of years of research by the Lameplast into green, sustainable, renewable and recyclable packaging, is in fact made from sugarcane ethanol and not from petroleum. Today, the Lameplast is able to present an entire range of bioplastic containers. Biopolymers can now be used to make single and multi-dose containers, for food, cosmetic and personal-care products.
Why use bioplastics?
Benefits for the environment, benefits for your company's "green" projects. Unlike traditional plastics, Green Polyethylene is not obtained from petroleum, but from sugarcane ethanol. The result? A singular plastic, with the same technical specifications, appearance and versatility as traditional polyethylene, but with many other strong points:
1. It is sustainable – The sugar cane crops used to make Green Polyethylene comply with the very highest sustainability standards defined in the Braskem Code of Conduct.
2. It is renewable – Green Polyethylene is made from ethanol produced from "non-GMO" sugar cane grown in Brazil, a renewable raw material.
3. It cuts greenhouse gas emissions – Sugar cane traps the CO2 in the atmosphere at each growth cycle, thus helping to reduce the negative effects of greenhouse gases.
4. It is 100% recyclable – Green Polyethylene is recyclable in the same recycle chains as traditional polyethylene obtained from fossil sources.

The Bioplastic used by Lameplast is Braskem I'M GREENTM POLYETHYLENE, distributed by FKuR Kunststoff GmbH.